Admission Information



Applications for admission must be submitted in the prescribed form along with attested copies of tenth marks card, Transfer Certificate, Migration Certificate from their respective school, 3 passport-size photographs and a self addressed envelope before the stipulated date.
Short listed candidates must attend their interviews on the notified dates.
Selected candidates must submit their original marks card and Transfer Certificate and pay the prescribed fees at the time of admission. Fees once paid will not be refunded under any circumstances.
All admissions are subject to the approval of the Department of Pre-University Education.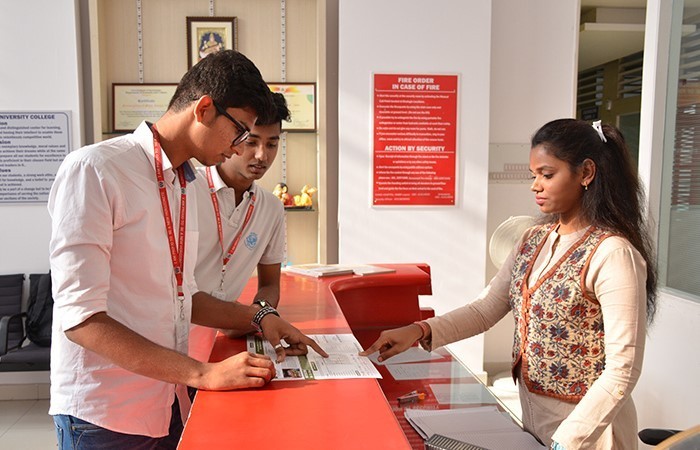 ELIGIBILITY

Admission is open to both boys and girls who have passed their SSLC examination conducted by the Government of Karnataka / ICSE / CBSE / high school examination of other states recognised by the Department of Pre-University Education

Indian students and foreigners who have completed their X STD examination from a Board outside India, should apply for an eligibility certificate at the Department of Pre-University Education to be eligible for the Pre-University course.
For admissions contact

E-mail: admissionsnhpuc@newhorizonindia.edu
Landline: +91-9513767333
Mobile: +91-9606955875
Mobile: +91-9886047078
Document Required
Original 10th standard mark sheet.
Original Transfer certificate issued by the school last studied with caste mentioned (if applicable).
Original Migration certificate in cases of non SSLC (Karnataka state) students.
In cases of reserved categories – caste certificate and family annual income certificate issued by a Tahsildar authorized by the Government of Karnataka.
Provisional eligibility certificate issued by the Pre-University Department, Karnataka in cases of students who have completed the qualifying examination in any country other than India.
Two sets of photocopy of each of the above relevant documents.
Six copies of passport size photograph (most recent, not older than one month) & four copies of stamp-size photograph to be enclosed in an envelope with name & stream mentioned on it. (Ensure that the background in the photograph is of light colour)
Language exemption approval letter from the PU Department (if eligible for exemption) through the Institution.
Points To Note
Selection of a student to any course is based on the student's merit.
New Horizon PU College reserves the right to select its students. All admissions to PU classes are provisional and are subject to approval by the Karnataka PU Department.
Students / Parents should adhere to the rules and regulations revised by the College from time to time. In the event of any dispute, the decision of the College authorities shall be final and binding.
Ragging of any form is not acceptable. Students found indulging in ragging or with past records of involvement in ragging or any criminal activities will be expelled from the College.
A minimum of 75% attendance in each subject is required for a student to appear for the annual examination at the end of each academic year during the two year course.
Students failing to attain at least 75% attendance in one or more subjects will not be eligible / permitted to appear for the annual examination conducted at the end of the academic year and such students will have to seek fresh admission to the same class in the subsequent academic year.
Education is the foundation upon which we build our future. This statement deems itself to be true. Students are the future of our nation and New Horizon Educational Institutions believe that fostering students is the best way to secure our Future.  
New Horizon Pre-University College is recognized as an 'A' grade college on the basis of Academics, Affiliation, and Administration by the Department of Pre university Education in Karnataka. NHPUC has provided students with the right to education with a myriad of combinations under Commerce and Science.  
Choosing science directs the students to some of the most influential professional careers such as Engineering, Medical and other Applied Sciences.  
NHPUC provides students with 3 extremely flexible, brain-jerking courses.
PCMB
PCMC and
PCME. 
PCMB 
Physics, Chemistry, Mathematics and Biology  
PCME 
Physics, Chemistry, Mathematics and Electronics 
PCMC 
Physics, Chemistry, Mathematics and Computer Science 
NHPUC provides 3 courses in commerce to choose a career in commerce like Chartered Accountant, Investment Banker, Business Analyst and many more. 
SEBA
CEBA and
BmBaSt.
SEBA 
Statistics, Economics, Business Studies and Accountancy 
CEBA 
Computer science, Economics, Business Studies and Accountancy 
BmBaSt 
Basic Mathematics, Business Studies, Accountancy and Statistics 
The following dress code must be adhered to by the students at all times within the campus premises:
For boys:
No shorts
No headgears(Except Pagdi for Sikhs)
No overly torn jeans
No chappals
For girls:
No shorts
No short skirts/dresses
No short tops
No overly torn jeans
No strapless tops
No burkhas
No headgears/headscarves
Both Boys and Girls must dress in smart casuals.
The dress code must be strictly adhered to. The college reserves the right to restrict the entry of students not following the dress code.