Dress Code: Students must be attired in a white formal shirt and dark blue trousers on Monday Wednesday and Friday.
About US
We are committed to fostering an environment which inspires, innovates, and discovers. A place where youngsters may learn, create, and develop their academic and behavioral skills. The pursuit of excellence, we believe, is anchored in our dedication to quality education.
NHPUC is recognized as an 'A' grade college by the Department of Pre-University Education.
NHPUC offers the following subjects & combinations.
FEATURES:
At New Horizon, we strive to bring out the best in our students so that at the completion of the academic year, they are smart and confident young adults who are working toward learning the skills and abilities necessary to achieve their career goals.
ELIGIBILITY CRITERIA:
Pass in 10 th standard (SSLC of Karnataka state or its equivalent) as recognized by the Karnataka State Pre-University Department. All admissions to the PU classes are subjected to approval by the Karnataka PU Department.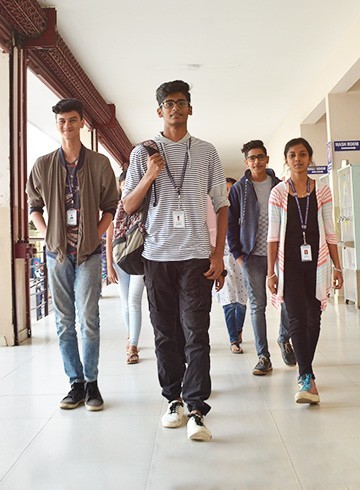 New Horizon Pre-University College (NHPUC)-the best pre-university in Bengaluru and one of the top 10 PUC institutions in Bengaluru, considers that promoting education is the best approach to secure future generations. Students are our future leaders, and we aim to give them the greatest education possible.
New Horizon Pre-University College is designated as an 'A' grade college based on academics, administration, and affiliation by the Department of Pre-University Education in Karnataka. NHPUC is one of the leading PUC colleges in Bengaluru, which offers students the right to education through a variety of Commerce and Science combinations.
The College offers the following subjects & combinations
Campus Life in
New Horizon
Pre University College
The College Campus provides a serene environment to the students with the state of the art infrastructure. The classrooms, laboratories, auditorium, library and cafeteria is well equipped to provide all the facilities supporting the students' activities.
New Horizon PU College is nothing sort of its name.It strives to achieve new horizons every day and we students could not be more proud to be a part of it.NHPU works like a well oiled machine and without one others would not be able to reach for the stars.I immensely enjoyed my experience here. From being serious in academics to having fun at cultural events.Even if covid put a damper on our time here ,the teachers made sure we got as much of the college experience as we could.I am sure I can speak for my friends too when I say that we wonot be forgetting the teachers or the classroom for a long time and will look back on it and feel nothing short of pride,joy and gratitude.
Shreya Murugan
II PUC SEBA

New Horizon PU college is one of the best known and reputed PU colleges in Bengaluru. The college is affiliated to Karnataka PU board and provides quality education to those who knock at its doors. Be it the ever-approachable faculty members, state-of-the-art labs, or the conducive environment for learning, academics never takes a backseat at NHPUC. All the classrooms are digitally equipped to cater to the changing times. The college also has several forums and clubs to stimulate the hidden talents of students. Moreover, there's a canteen facility for those who'd like to avail. All in all, NHPUC is an amazing place to be at and I am proud to be a Horizonite.
Anirudh Sree Nair
II PUC CEBA

I'm glad to say that NHPUC renders an overall growth of students. They ensure not just academics but overall personality development also which is a trait that not many insist on the current period. I have been extremely pleased with the teachers, curriculum and the holistic development that the college emphasis on. Teaching is extremely professional that cater to individual needs . They provide us sufficient competitive exposure as well as efficient academic guidance The college has excellent infrastructure and the clubs are created with a lot of thought. From helping us focus on our academics to encouraging us to take part in sports and cultural, New Horizon always managed to strike the right balance to ensure that we excel in everything we do. There are multiple events which is conducted on frequent intervals to improve our skills to a greater level providing a platform to showcase the students' talent and enhance their confidence level. Overall the college provides necessary training to students which helps in their future endeavours.
Priyadarshini T
II PUC PCMC

When I came to New Horizon, the vibes of this college made me realize that I have entered a warm, diverse and a lively community, that will help me harness the power of knowledge. I was able to share a great bond with my teachers, who have not only imparted their knowledge but also provided me with opportunities to take part in various events and competitions. There was no absence of 'masti 'thanks to my friends. So it was not just academics, but overall growth. This was my journey at new horizon in a nutshell and I'm sure that everyone here has some amazing stories to tell, so Be Yourself and Live It Up!!
Ananya Vinod
II PUC PCMB