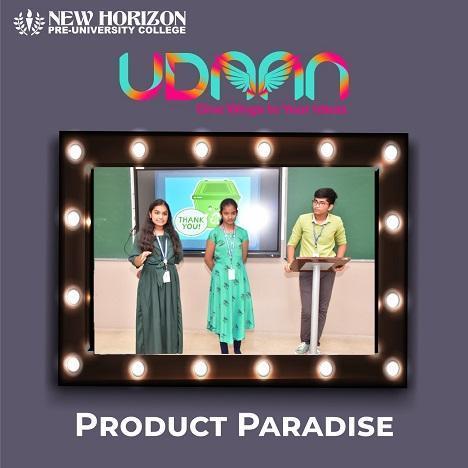 New Horizon Pre University College, Kasturinagar, Department of Commerce organized an event "Product Paradise" on Nov 10th 2022 in NHPU campus as a part of  UDAAN 2022.Students were given an opportunity to showcase their entrepreneurial skills, innovative business products or ideas to the judges. Students had to launch a product or introduce a business idea through models and PPT.
Event was judged by Ms.Jyothi J Ms Savitha,Mr Ratheesh,Ms Veena, Department of Management and Commerce  NHCK,. Students enthusiastically participated in great numbers and impressed the judges with their innovative ideas and skills. The ideas and the products introduced by the students were novel to the market.
Product paradise event was organized with intent of giving exposure to students to on the reality of entrepreneurship.
UDAAN is the very own version of New Horizon PU College, Kasturinagar's Shark Tank to encourage young minds to come up with innovative ideas.