7 Tips to Crack your Entrance Exams Effortlessly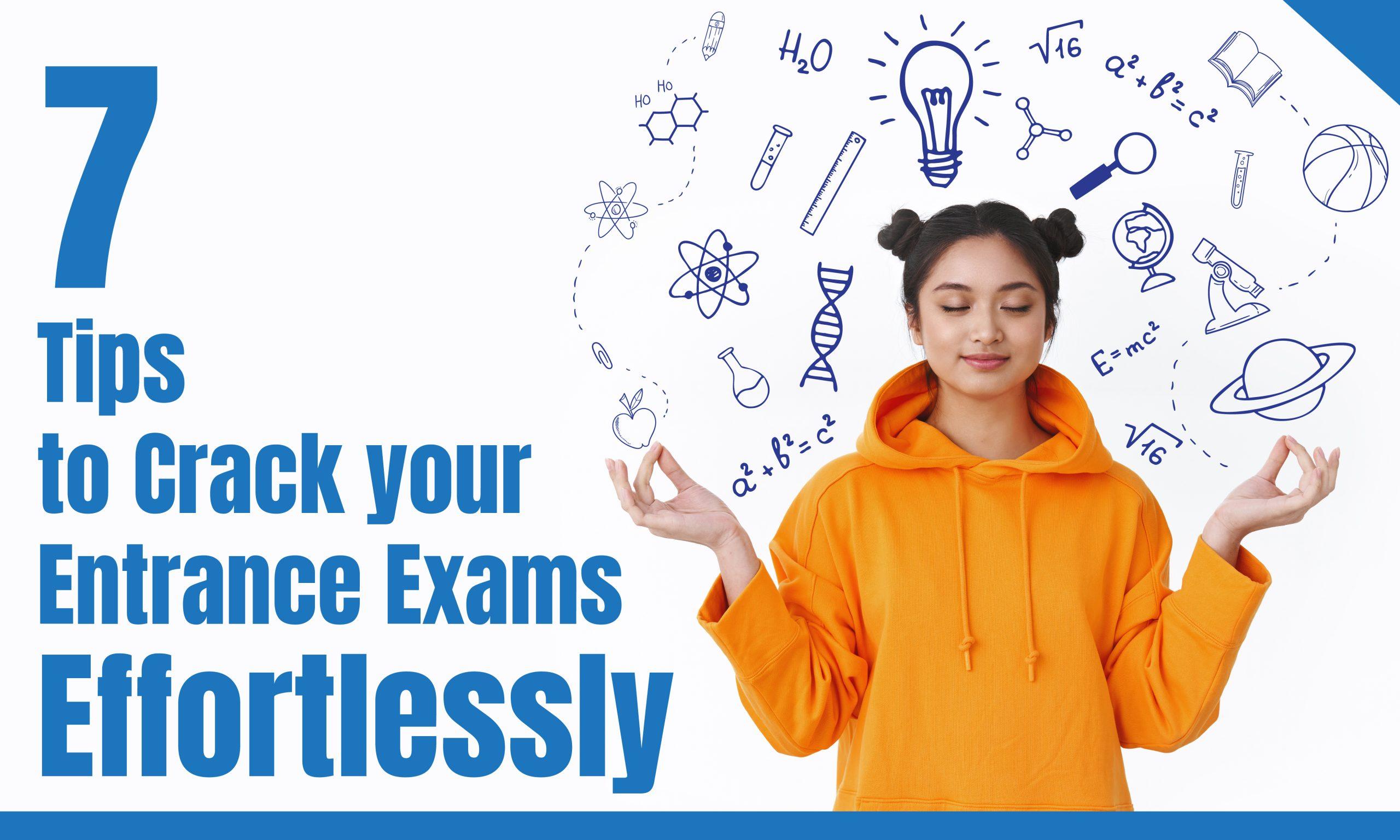 After 12th Grade, we must choose the best career option for ourselves based on our interest. Based on your choice of course you may have to write entrance exams that require you to study a plethora of subjects and topics. Students should have a strong test preparation technique to do well in competitive examinations. Here we would like to throw light on several key factors that every student should keep in mind while they prepare for entrance exams.
Make a Study Plan
The first step for your success in competitive exams is a good study plan. Start with the syllabus of the entrance exam you wish to appear for. Be sure about the weightage of marks of individual topics in different subjects. Once you are done with that, you can have a better plan for your preparations. A plan/schedule helps you direct yourself and finish tasks in a hassle-free manner.
Start with NCERT books
NCERT books are often regarded as the best books for any competitive exam. You are not required to purchase these as well. All NCERT books like science, social studies, and mathematics are available for free on the internet in your preferred language. To brush up on your basics you can begin your engineering or medical exam preparation with Class VI Science and Mathematics and continue smoothly up to Class XII, re-doing what you may have forgotten.
Use free apps and YouTube channels to study
It is preferable to read a topic from an NCERT book before watching the accompanying video online, on YouTube, or via numerous apps. Test your abilities by taking practice tests. This will make studying more fascinating for you, and you will be able to learn more quickly as a result.
It is a known fact that YouTube and the creators on it offer several video lectures which are easily understandable and well-explained. All you must do is search for it. They are highly interactive and engaging. You are expected to find a slew of apps relating to topics that you are preparing for.
For students preparing for entrance exams, these applications make learning fun. Here you can find high-quality video lectures as well as hundreds of practice problems. On these apps or websites, you can track your progress by taking topic-based tests, chapter-based tests, unit-based exams, subject-based tests, and full-length mock tests. 
Know Your Strengths
Analyze the mock tests you have taken to determine your strengths and shortcomings. Increase your focus on your shortcomings to improve your skills in them. This will boost your confidence and you can learn better.
Revision is the key
Revise properly, it is human nature to forget things over time. As a result, you should devote more time to your flaws than to your strengths. Most of the students refer to multiple books on the same topic/subject instead of repeating a single book many times. This helps you approach the same topic from varied perspectives.
Do not Ignore Doubts
Most of the students ignore their doubts by presuming that the question will not be asked in the exam. This is wrong. You should clear every doubt. If you are unable to find a solution, you can get the help of your friends or your teachers.
Solve previous year's exam papers
Before attempting the exam, you should solve the previous year's questions. By solving the previous year's papers, you will be able to know the correct pattern of the examination. Moreover, last year's papers also help you plan a good attempting strategy. This can also be used to time yourself while answering long questions.
We hope this blog makes the journey through your preparation a little less hectic. All that you need to put in is a sincere effort. Performing well in the entrance exams is the key aspect to being a part of top engineering colleges in Bengaluru. To be admitted into the best engineering college you need a certain ranking. So, work hard to make your dream come true and achieve success.
New Horizon Pre-University College is the best PUC college in Bengaluru for students to achieve success in all aspects of life. The top 10 PU colleges in Karnataka are always looking forward to guiding students who wish to acquire a good ranking. New Horizon PU College kasturinagar is one such top PU college in Bangalore, where students are given the best coaching for CET. Explore yourself to extend to new horizons at New Horizon Pre-University College. Click here for more information on admissions.