6 Personality Traits to secure a Job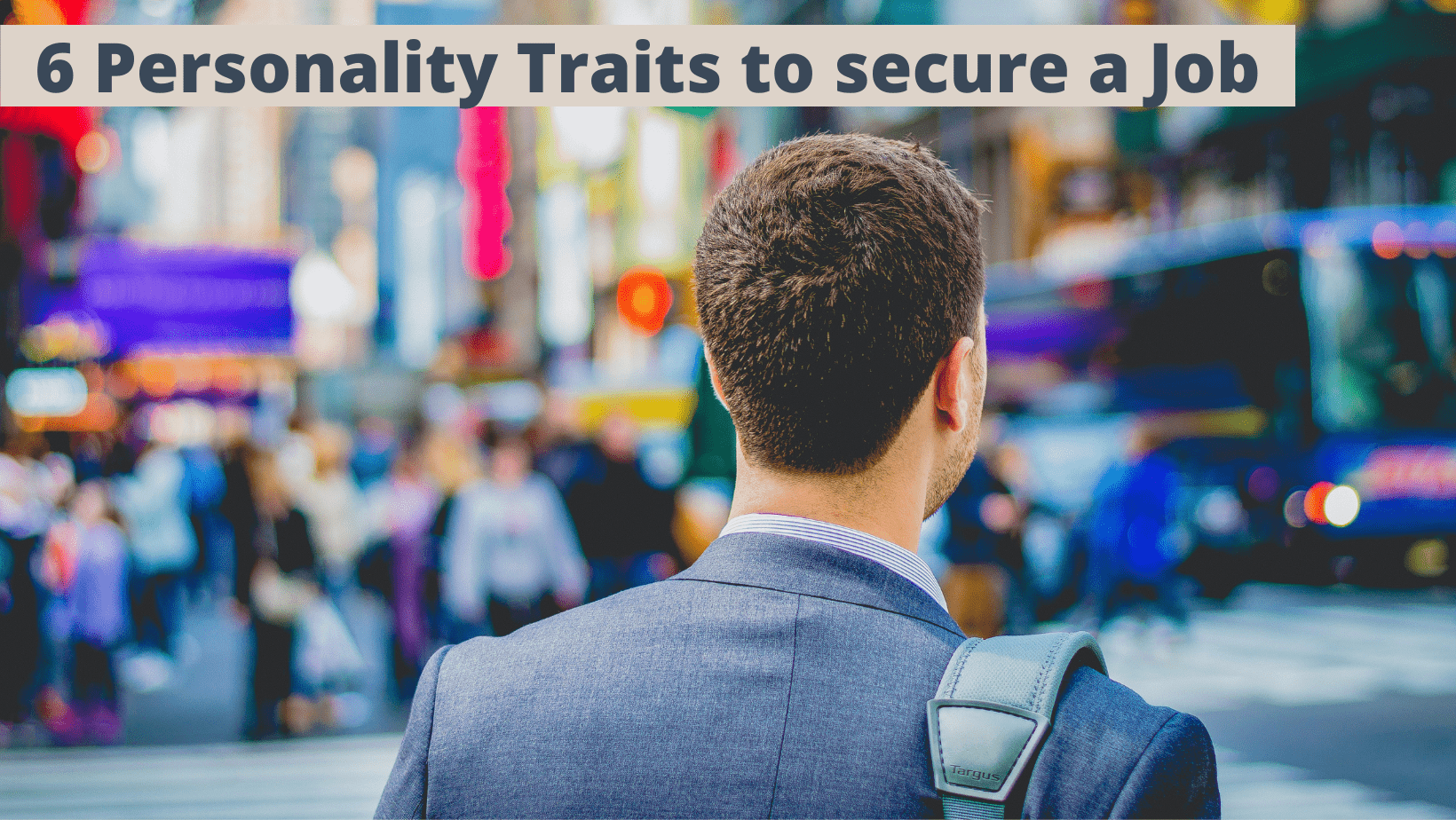 Every organization has a set of values and morals they like to follow. Right from the day of joining organizations like to inform and train their employees on their company values and work culture. This is a prominent practice to bring uniformity and a common ground for all to work. Apart from the specific values that can be taught and implemented, there are some common aspects your employers are looking for in you while hiring.  
While it may sound subjective, most interviewers are trained to look for certain aspects which are a part of the candidates' personality. These personality traits essentially reflect upon how you conduct yourself inside and outside the office. That is precisely why interviewers are careful about whom they choose to be a part of the organization.  
Some jobs require you to be swift while others may allow you to take time to deliver a clean, fresh and authentic product. However, there are some traits every employer stresses' on whether you are in a technical field or the creative field.  
Be it is an internship interview or a permanent job interview; here are 6 traits employers are looking for in their candidates. 
Cognitive and Analytical Skills:

 employers need logical candidates who have cognitive skills which allow them to reason, learn and solve problems easily. Cognitive skills, simply put, are the skills you need to learn things. The actual existence of knowledge does not concern cognitive skills. Analytical skills on the other hand require an individual to break down data into smaller bits to research, manipulate and create new forms of it. Having Cognitive and Analytical abilities enables a person to look at new data or old data in a fresh perspective that helps them in problem-solving and decision-making. How do cognitive skills and analytical skills help a professional? Cognitive skills help an employee process data, maintain order and team goals while also paying close attention to detail. Analytical skills help an employee analyze, process, collect, organize and visualize data. All of these eventually make you a good employee who needs minimal assistance at work to finish the task at hand. 

 
Proactive:

employers often need someone who does not have to be told what to do. They appreciate employees who can complete tasks, plan ahead and work independently. Being eager about new projects, swift to respond and ambitious are all qualities encouraged by employers. Employers also specifically look for multi-faceted individuals who can take up new tasks when in need. The pandemic is witness to lakhs of people facing the loss of jobs. Every company is investing in their existing employees to take up new roles and manage various aspects of their field instead of one. At a time like this, being able to do more is considered a blessing. So, take up new courses and workshops to enhance existing skills or learn new ones. 

 

Adaptability:

 not being able to tick off every requirement given in the job profile is natural. It is not necessary for you to know everything while applying for a job, some things will be learned on the job as well. However, being able to adapt to things and also readily picking up new things is imperative. Your interviewer would appreciate and consider you if you are being honest about not knowing a certain software or app, provided you guarantee them you are a quick learner and willing to learn it on the job. 

 

Communication skills: 

in each of these pointers you must notice, communication plays a significant role, being it via words or body language. Your work can speak for itself but you must too. It is important you match up to each person surrounded by you. Being able to communicate with your seniors, juniors and equals are necessary to avoid miscommunication or a communication gap that can lead to discrepancies. On the other hand, being aware of your voice, words and tone is also important. Companies require someone who does not have to be schooled on how to approach whom. You must remember, even a 'no' can sound less harsh when said differently. In case a candidate thinks he/she should improve their soft skills, they can always go to personal grooming classes and communications classes.

 

Interviewers are looking at how you place your ideas if you are able to communicate freely while also being kind, respectful and humble.

 

Positive attitude: 

turning up to your interview looking fresh, clean and happy is always a plus point. Employers sit long hours going through resumes and interviews discussing the same things, machine-like. Being a breath of fresh air by ditching the nervous look and face of fear will make your employers happy. Further on, maintaining a cool temperament with everyone, carrying a smile along with yourself and a confident walk/attitude is key to successful work life. People go by instincts just as much as quality in every industry and if your energy, along with your knowledge can draw someone to your work, then what better way to work! 

 

Team Player:

Irrespective of what position you hold, you must be able to work well in a team. You must be a convincing and persuasive person. Being able to communicate well, maintain order and harmony in a team under pressure throws light on your abilities. That being said having your individual opinion, being able to put your point across a group of people and working well by yourself is also required. Being a team player means you are open to collaboration and commit to your duties. 

 
This was a rundown on how you can groom yourself based on your employer's needs. Look beyond your knowledge, there are a plethora of personality traits your interviewers are looking at while taking your interview. Some worth a mention are time management, flexibility, discipline, spontaneity, and organized. 
If you are an aspiring graduate then New Horizon Pre-University College is the best PU college in Karnataka for you. NHPUC has a name of its own in the city of Bangalore to be considered one of the top 10 PU colleges in Bangalore among the list of PU colleges in Bangalore. We not only educate our students but also make them industry-ready. Our training includes giving them quality assessments and placement training to adapt to the interviews they are to face in their career. This is the sole reason we are among the top 10 best PU colleges in Karnataka and the best 11th and 12th colleges in India. We welcome students from across the country to be a part of our NH family; where they can proudly say they belong to the best pre-university in Karnataka. Take a look at our admissions process, courses offered, campus life and more.