10 Tips on Time Management for College Students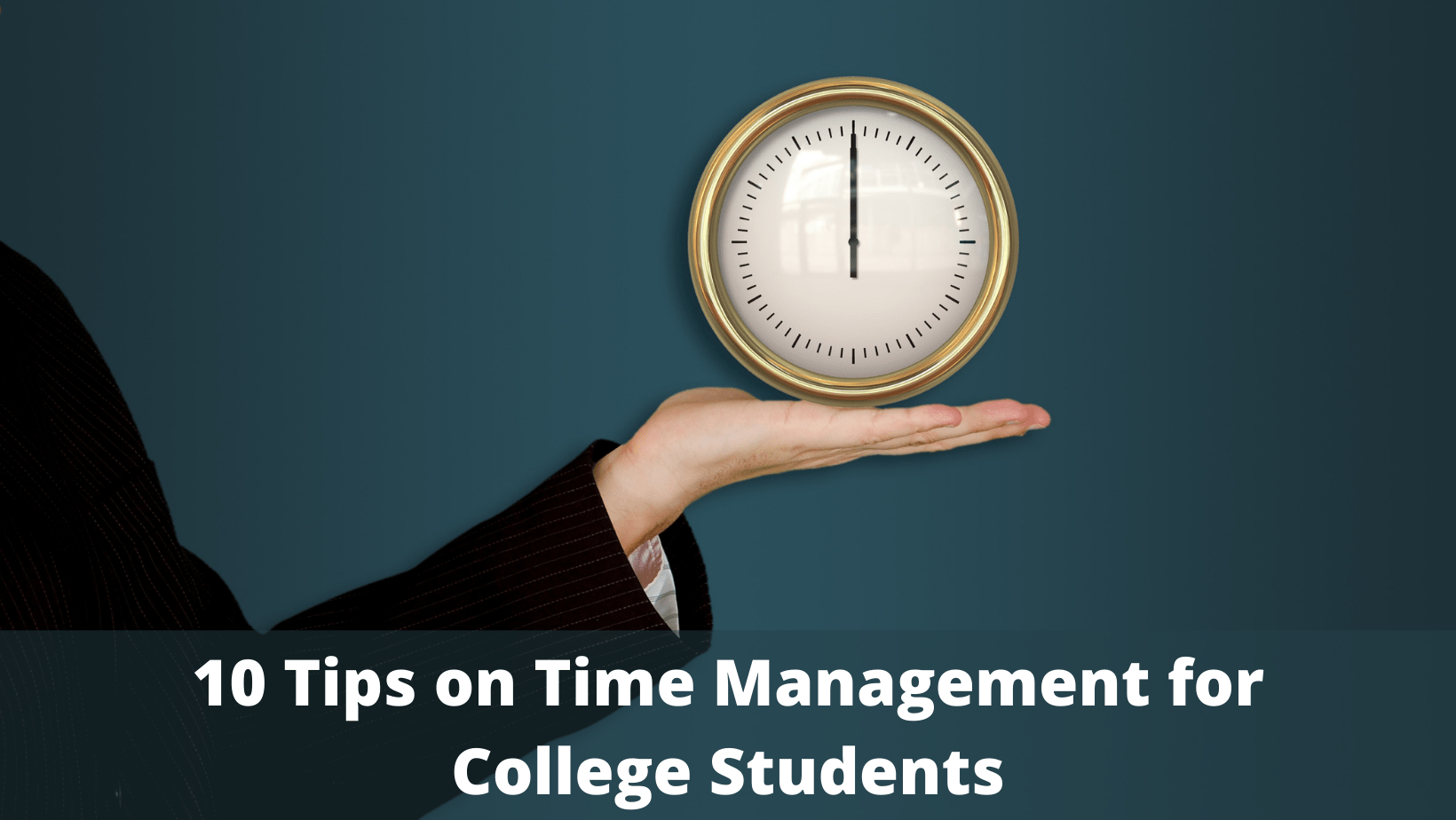 What is Time Management? 
Time management is the process of allotting a certain amount of time to activities; in order to successfully plan, organize, complete the task, and remain stress-free.  
We have often heard the phrase "I work best under pressure". In such circumstances, the work does get done faster but we forget that last moment mayhem decisions can be flawed. Moreover, extreme adrenaline released in the body can cause major bodily dysfunctions such as heart attacks and the weakening of the muscles. Adding on, there is lack in attention to detail when you are scurrying to finish a task.  
Have you ever been in that situation where you procrastinate until the night of the examination? The moment where you are sitting down at an ungodly hour stressing over having to mug up an entire semester's work in a night. You may have done fairly well for 300 pages in 6 hours at 3am but do you remember anything from that syllabus?  
Or did you get delayed on your project work because you got yourself wound up in the Marine (Instagram) trench?  
Right, that is exactly why time management skills are important! Managing your time well is an art. One must be able to give a satisfying amount of time to their academic life, social life and personal life, without feeling that one is overlapping the other. Getting puc admissions in the best PUC college in Bangalore comes with its own commitments; writing assignments, making plans with friends, making time with family and somehow not finding any time for yourself. So, if you are in puc colleges in Karnataka wondering how to manage time for study daily, how to manage time in board exams or time management for exam preparation then let us help you out! 
This article will give you tips on managing your time and also tell you about the benefits of time management in college. 
Benefits of time management: 
Greater Productivity: completing the task must never be the goal, being able to churn out good quality output with a satisfying result should be the mark of achievement. Managing your time allows you to think without being rushed which guarantees greater productivity.  
Lesser Stress: Being rushed or under pressure is never a good feeling. Majorly, we come under pressure because we have delayed a task for too long by procrastinating. Managing our time, planning and allotting specific hours to a task allows us to take things slowly on a daily basis instead of doing it all on one day. 
Prioritizing: Some tasks are more important than others. Some tasks need more time while others can be done faster. Managing your time allows you to wrap up things based on priority so that the high priority tasks can be prepared before the deadline. For example, the longer, more difficult chapter can be done before the simpler, shorter chapter. That way you do not stress out before the exam about the one chapter that holds the majority marks.  
Confidence: Being sure of what you are talking about or presenting gives you confidence. Confidence is usually lacking with half-baked knowledge. Giving yourself time to prepare about absolutely anything in detail gives you more confidence and boosts your morale in the matter.  
Punctuality and Discipline: effective time management gives you ample of free time. When you finish your task on time you are punctual when it comes to submissions (even reaching your examination on time). Being punctual and disciplined forms a good impression on others: peers, teachers and other members of the authority. 
Now that we have discussed the importance of time management in college let us also take you through the top 10-time management tips for college students: 
Identify time wasters:

 human nature is to identify the root cause of a problem but find immense difficulty in dealing with the issue. Likewise, we are sure you know what holds you back from concentrating on what is required. Whether it is social media or social interaction, whether it is taking too much academic stress and not being able to socially interact enough. This article should be your hint to point out those factors in your life that are crossing the line of adequacy and becoming time-wasters. 

 

Plan ahead:

planning ahead is beneficial in every aspect. Art is best when there is an inspiration. Just so, any task at hand is always done well if you plan it beforehand and know what you are to do in a linear fashion. 

 

Avoid multitasking:

 having multiple skills is a boon, but taking up multiple tasks at the same time is a big bane. Current day children are seen participating in almost every sport, dance and music class available. They may be learning multiple things, but master nothing, and we all know the famous proverb related to becoming master of none. Multitasking, yet again, may get each task completed but the quality of the outcome is set on being poor. Paying attention to detail in each task is important and necessary to become a master. 

 
Take Breaks: 

needless to say, taking breaks between tasks or classes is very important. Your brain and body need rest. Avoiding daily activities like sleep, exercise, food, alone-time because of an assignment, or rehearsal is unhealthy. You are bound to run out of fuel and feel burnout which will most definitely last longer than a one-hour break.

 

Break Wisely:

just as taking breaks is necessary breaking wisely is also an essential part of time management. While taking breaks you must avoid excessive social media usage. The idea is to give your mind time to process and settle. Social media has a tendency to overwhelm and distract. Use your breaks at the right time between two major tasks of your day and use it to prepare yourself or just do nothing. For example: after your daily job/classes you have dance class from 7-8:30pm and an online presentation at 9 pm. Throughout the entire day, you only have an hour free between 6-7 pm. Utilize this hour to go through your presentation and be prepared for it while also using some time to lay back and relax.

 

Take Help:

Our lives can get very overwhelming. Sometimes we feel good when we vent out or even ask others to help us manage our time wisely. Counsellors, psychiatrists are the best people to approach for such requirements. However, if you are unwillingly to go to a counsellor or do not have one at your campus, then you can always ask for advice from a friend you trust and rely on. There are many other ways to clear your mind, almost like a reboot, try to meditate regularly, do breathing exercises, take day-offs and dedicate some me-time.

 

Set Limits:

Having a ready-made target for your chores is a plus point when it comes to getting things done. However, setting limits can come in handy when you know you overdo certain things and avoid others too. For example, if you are a college student who is a dancer and find it difficult to leave the studio without finishing the routine even on days you are supposed to dedicate to studies; then try setting alarms and make a stern decision that you must pick up the routine in say 2 hours before you go home and prepare for your internals. It may not be as easy as it sounds. It may take a few days before you can actually adhere to it, but practice makes a man perfect.

 

Use technology:

using technology wisely to sort out things that no longer need human intervention is the best way to go about daily life. One can use a calendar to be more precise or use apps that do posts for your internship's social media account. Technology is a boon and a bane. It is known to us that technology can make us rather lazy. Everything is available on the internet. We pay our bills, order groceries, take classes, read, work all from the comfort of our bed or chair. Even our source of news has shifted from television/newspaper to digital formats. Which to be true to oneself is a great advantage, we are aware of various things before the 9 'O clock news and also watch how the citizens feel about certain topics. On the contrary, the digitization of the world is turning us into couch potatoes. We forget our regular face-to-face interactions because our friends have seen our WhatsApp status or snap stories through the day and know what we have been up to. There is less to talk about. Excessive usage of social media and less physical interactions is growing to become one of the leading reasons for depression and loneliness. We must take time out of our phones and laptops to jog, walk, dance, sing, meditate, play with friends or be alone from time to time.

 
Schedule Rewards:

just as we had mentioned earlier in the article that it will take you time to get things in place and actually adhere to a schedule, we are giving you a hack for it. Giving yourself some rewards upon completion of a task on time or before the deadline will encourage you subconsciously to do it again. This will eventually keep you hooked on finishing things on time. The reward could be ice cream or an extended break!

 

Understanding Worth:

 what is the most important thing in your life? Go in ascending order. You know now where your priorities should lie. Each thing existing in your life has some value, value which should not be lost. Education, passion, family, friends or more, each of these things deserve to have a certain amount of attention paid to it. Paying more than required attention to one will eventually show up negative side effects harming other important things in your life. 

 
You must remember that your happiness and content succeed everything else in your life. Only if you are happy will you be able to keep the others in your life happy. Pushing yourself only works to a certain extent, after which you will feel symptoms of burnout, depression, stress or anxiety. Precisely why, the extremity of anything can be dangerous. Being able to time yourself and manage everything with a calm front is important when you are in college. New Horizon Pre-University College, one of the top 10 puc colleges in Bangalore among the list of best puc colleges in Karnataka, have specifically recognized how tiring it can be for college students to have to manage time and be available academically, socially and personally. This is why we have in-house counsellors that are approachable and guide students based on their interests and importance. NHPUC also has training programs for teachers to recognize discrepancies so students can ask for help at any given point of time. We also allow our students to freely dedicate equal amount of time to extracurricular activities so that they do not feel any academic burden. Which is why NHPUC is among the top puc colleges in Karnataka and one of the best puc college in Bangalore.